dTeam Methodology
Training is a leadership process!
No matter how peremptory this statement may be, training is undeniably a continuous process of influence, transfer of skills and motivations, and of orientation in choosing the most effective learning modalities.

What kind of training should you use?

This depends mainly on a combination of 3 kinds of needs:
Training requirement

Information requirement
Performance support requirement
It is a rolling process that changes in accordance with its operating context, the people involved and their "role suitability". By creating dynamic solutions and situations, it is possible to delineate a consistent number of possibilities that will satisfy specific training requirements.

The pedagogical model utilised by dTeam is constructed on the basis of a knowledge matrix centred on the progression of two formative axes: task orientation and cooperation orientation.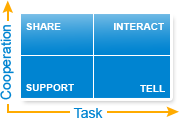 Within this scheme there are four educative modalities differentiated by the varying relation between the level of support/relation and that of directivity/control towards the person learning.
TELL
Transfer of content through programmed paths of self-teaching and learning verification. A training formula with a strongly prescriptive connotation and detailed attention to content and usage modalities. This self-teaching modality proves very useful in the enhancement of technical and procedural skills.
INTERACT
This training process entails not only a high degree of task-involvement but also a high level of interaction among tutors, participants and the simulation model sited on the LMS platform. Instruments like business games, role playing and serious games recreate the business scenario, so that training takes place in an immersive and realistic context.
SHARE
Relationing, participation and sharing of experiences through the 'negotiation of meanings', is an essential prerequisite in the search for authoritativeness of content and people. Intensive use of collaborative community instruments such asforums, Wiki and virtual classrooms, and comparison and exchange of "best practices".
SUPPORT
A sort of "delegated learning" method which provides instruments to support company performance. These resources include analytical instruments and organisational and commercial diagnosis tools, skills and personality assessment tools, management and evaluation dashboards for enhancing the efficiency and effectiveness of processes.
In consideration of its ethos of professional development as a continuous process, dTeam places much importance on the graduated character of these four educative criteria, and offers personalised paths in which the blend of methodologies converges on the enhancement of the role-suitability of the individual in the organisation.